Define and advance ESG thought leadership
Ensure the resilience and long-term preservation of value for our business through evaluation of future risks, including those associated with climate change

Integrate the fundamental principles of ESG to ensure responsible investment and business decisions
Research and develop programs focused on impact reduction and stakeholder benefit
Reduce energy and water use, and waste within our offices, as well as our real estate portfolio

Invest in our employees and communities and provide a safe, healthy, inclusive and diverse work environment
Partner with our stakeholders to implement solutions that solve ESG pain points
Position our portfolio with modern, efficient logistics real estate assets in locations that benefit our communities and meet our customers' business needs

Invest in training and growth opportunities for logistics workforce development, health, safety, and productivity
Sustainability Fast Facts for 2019
456

cumulative sustainable building certifications totaling 169 million square feet in 18 countries

33%

of total portfolio has efficient LED lighting

46%

of total operating portfolio has cool/reflective roofing

$3

million in grants and donations to support local causes and nonprofits
88

months of rent-free space to 15 non-profits

212 MW

of solar energy installations

12,786

volunteer hours to local communities
Data as of September 30, 2020


Corporate Social Responsibility

Which Reporting Methodology does Prologis Use?
2019 ESG Impact Report
The 2019 ESG Impact Report details the value we create for our stakeholders beyond our real estate assets.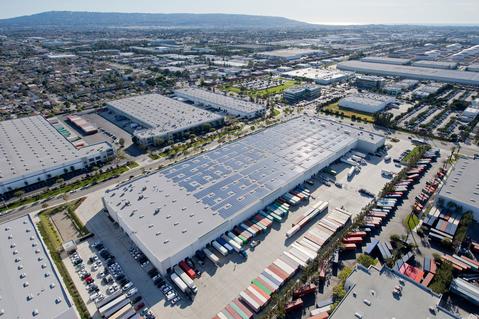 2018 ESG Impact Report
The 2018 ESG Impact Report exemplifies our long-standing commitment to ESG as a competitive differentiator that helps us better serve our customers, deliver value to our business and stay ahead of what's next.