The Project
In January 2018, Prologis acquired a 18-hectare site in Muggensturm, near Karlsruhe, Germany. Construction work began in February 2018. In March 2019 completed, the carbon-neutral logistics center offers around 101,000 square meters of logistics space. In order to achieve carbon neutral operation of this facility, the overall difference between emissions and carbon offsets must equal zero. This can be achieved by various measures such as photovoltaic systems, efficient lighting, and increased insulation.
What's in the Box
For L'Oréal, Prologis developed the largest logistics center of the cosmetics manufacturer worldwide. With more than 100,000 square meters of space, the facility offers extensive storage areas for a wide variety of products.
Watch our video to see what happens behind the scenes of the carbon-neutral logistics center in Muggensturm near Karlsruhe. Be amazed by the staggering number of different articles that are stored inside and how many pallets there is room for. Find out how many products leave the logistics center each year and which countries they are transported to.
A Bird's Eye View of the Facility
In February 2018, Prologis began construction work on the 18-hectare site in Muggensturm. Our videos offer an initial impression of the site and the construction work.
Carbon Neutrality at a Glance
Sustainability is a complex issue on which Prologis has focused for a long time. As a result, our company has been included on the Corporate Knights' list of the Global 100 most sustainable companies in the world for many years, in addition to other prominent sustainability awards and recognition. In Germany, we develop all of our properties according to the German Sustainable Building Council's (DGNB) Gold standard, which includes the low-energy facility for L'Oréal.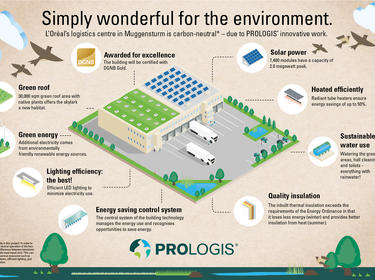 With the development of a carbon-neutral logistics facility, Prologis is one step ahead of the industry. Learn more about how L'Oréal and Prologis are achieving a net-zero carbon footprint for the logistics facility in Muggensturm.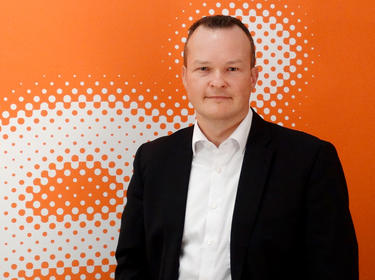 We are constantly monitoring and testing new innovations to implement best practices in our facilities. We spoke to engineer Lars Knabben, associate director of the energy consulting firm e² energieberatung GmbH, to explain the nuances of carbon-neutral logistics facilities in Germany.
L'Oréal is Active in the Local Community
At the new location, L'Oréal will collaborate with the company Murgtal-Werkstätten & Wohngemeinschaften (mww) to offer jobs to people with disabilities. A mww team is responsible for maintenance of the green areas on the property. Prologis and L'Oréal donated 10,000 euros to mww at the cornerstone ceremony in April 2018.
Partnership
Prologis is committed to transparency, to strong relationships and partners, and values fair cooperation and collaboration. Long-term partnerships with communities, customers and service providers play a central role for us.
Contact
Do you have inquiries about the project or general questions about carbon neutrality in logistics facilities? If so, please contact us:
Joachim Sellau
Authorized Representative, VP, Project Manager, Prologis Germany

Phone.: +49 (160) 4797820
Email: [email protected]