The European logistics market is changing rapidly: e-commerce is accelerating; supply chains are being restructured and economies are expanding. To understand how these changes are likely to affect the real estate market, Prologis Research and eyefortransport (eft) polled logistics operators across Europe to ask what criteria are driving location selection now and for the future. The survey was carried out from February to May 2017, with 280 respondents across sectors ranging from retail to automotive to electronics. Using historic data from surveys conducted in 2013 and 2015, we have been able to track how decisions about logistics locations have evolved over this period.
Further consolidation expected in next five years
Although the onward march of e-commerce suggests decentralization, most emerging trends anticipated indicate that the logistics sector will move towards consolidation.
Taking the 13 trends that are likely to drive change over the next five years, we asked respondents which drivers would lead to consolidation within their distribution networks and which to decentralization.
The growth of e-commerce - with its increasing proliferation of regional fulfillment centres and local parcel hubs - was seen by all customer sectors as the only driver towards decentralization.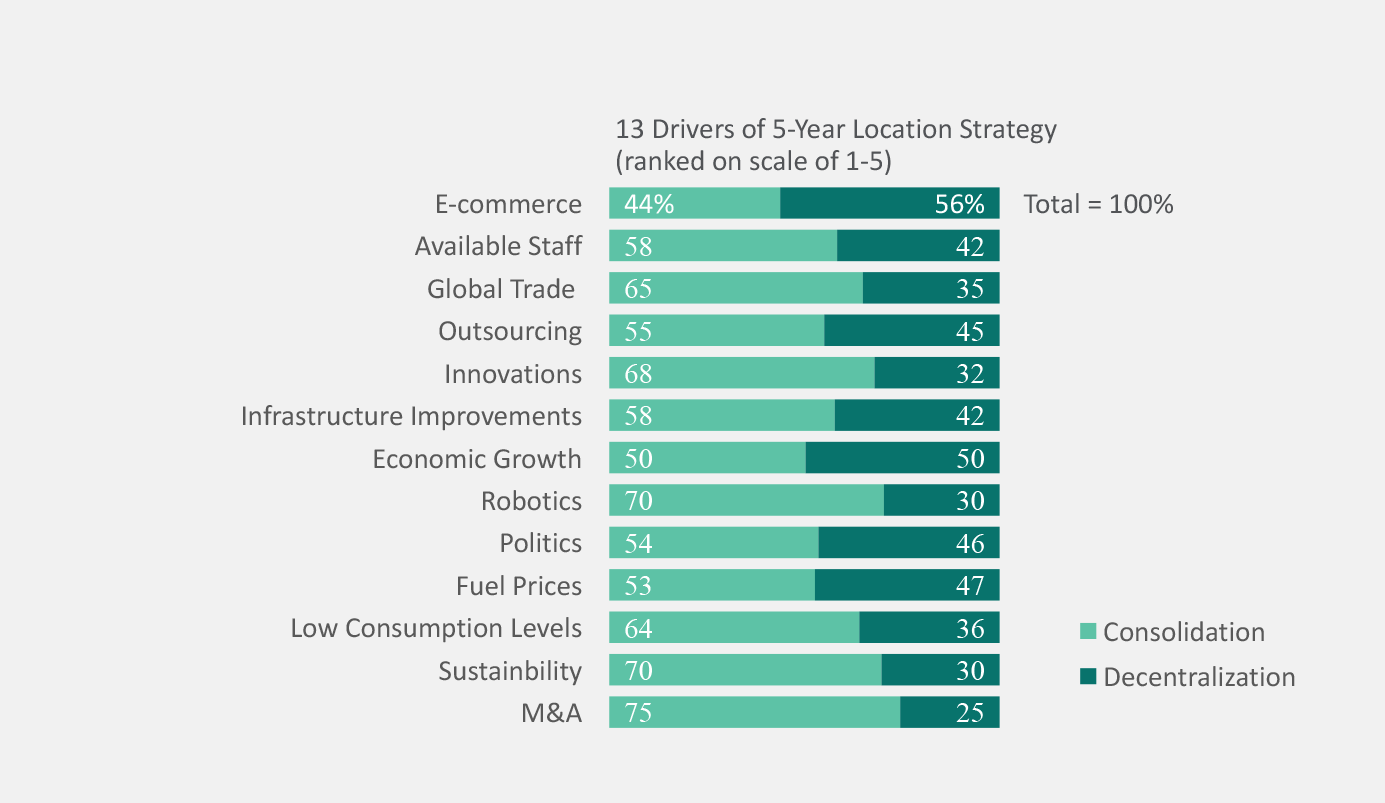 The move towards consolidation is expected to accelerate as emerging trends, such as sustainability, technological innovation and consolidation gather pace. Respondents in the electronics, consumer products and apparel sectors believed sustainability to be a powerful driver, while those in apparel – along with respondents in the pharma sector – thought that technological innovation and robotics would also have a strong impact on the trend towards consolidation.
Declining unemployment rates, changing demographics and a growing demand for logistics employees is shaping location decision making in the short and longer-term. The importance of the availability of qualified staff has been a consistent theme of the 2017 survey and respondents thought that the skilled labour requirement was another reason for consolidation. Since staff availability is expected to be one of the top three factors influencing decision-making over the next five years, recruitment issues are likely to present an even more persuasive argument for consolidation in future.
Continuing to look ahead, our next question tackles the bigger picture. What will distribution networks look like in five years' time?
Structural changes drive location strategies
Over the next five years, long-term structural changes are expected to have more impact on location decisions than short-term cyclical drivers.
The European logistics market is evolving rapidly and long-term trends, such as the continuing growth of e-commerce and outsourcing are set to be a greater influence on future location decisions than short-term cyclical drivers, such as low levels of consumption.
Online shopping dates back more than two decades and e-fulfilment has played a significant role in the logistics sector for at least five years. Since e-commerce is still in the early stages of its growth cycle and because it is an intensive user of logistics real estate, the expansion of online activity is leading to increasing demand. Recognising the potential of e-commerce, respondents rated its growth as the most important driver of change in the next five years. This is the first time that the continuing development of online shopping has topped the ranking, climbing from fifth place in 2015 and sixth in 2013. Consumer-facing sectors, such as electronics, consumer products and home goods gave e-commerce growth a particularly high score.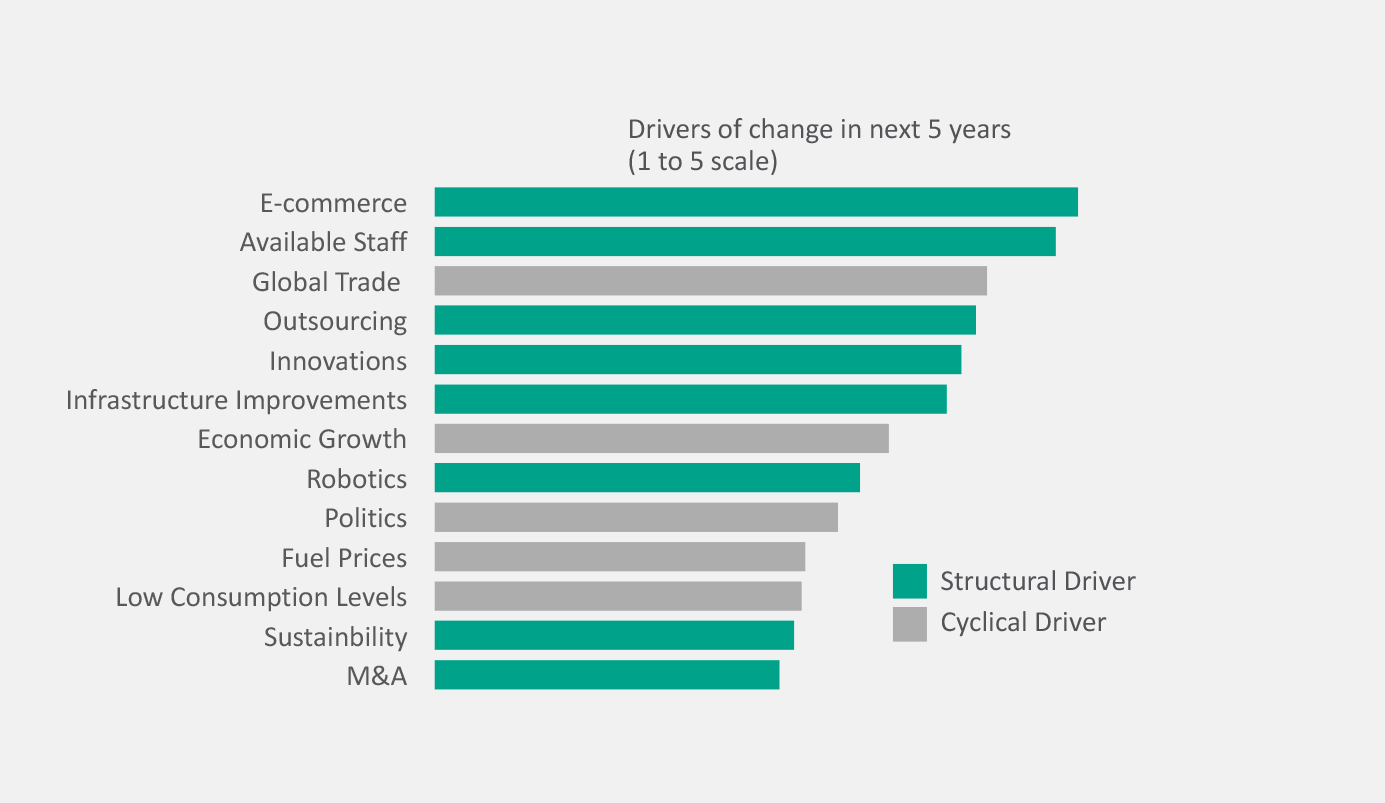 With changing demographics and increased levels of value-added services in logistics warehouses, availability of qualified staff has become a structural as well as a cyclical driver and this ranked highly in the 2015 and 2013 surveys, as well as 2017. Metropolitan areas have large labour pools and offer the best opportunities to find a qualified workforce. Skilled staff availability was in the top three criteria for all sectors, achieving the highest scores from automotive and pharma customers.
Technological innovations are evolving rapidly in our sector leading to more agile supply chains and faster delivery times. Among food and beverage and freight companies, technological innovation was highly rated, but when the results were aggregated across all sectors, innovation - along with robotics - achieved only mid-range ranking. Currently, it is mostly the largest logistics warehouse operators who are investing in robotics.
As in the 2015 survey, political issues were not seen to have a strong influence on location decisions over the next five years. Among logistics operators, investment horizons are long. Demand for logistics warehouses is mostly driven by supply chain modernization and consumption, so location decisions are influenced by long-term trends and only to lesser extent by short-term political changes.
These drivers of change are shaping the logistics landscape and warehouse users are moving towards consolidating or decentralising their distribution networks. This shifting picture was the starting point for our next question.
Occupiers focus on operational efficiency
The most important location criteria are proximity to economic networks and the availability of a flexible workforce.
With a focus on operational efficiency, logistics occupiers are aiming to improve their supply chains. Their priority is to be near large population centres and transport networks, closely followed by the need to be within easy reach of customers and suppliers. While proximity to economic networks has been the top criteria in the past two surveys, access to customers and suppliers has moved up to third place from sixth and seventh in 2015 and 2013 respectively, reflecting a sharper focus on supply chain efficiency.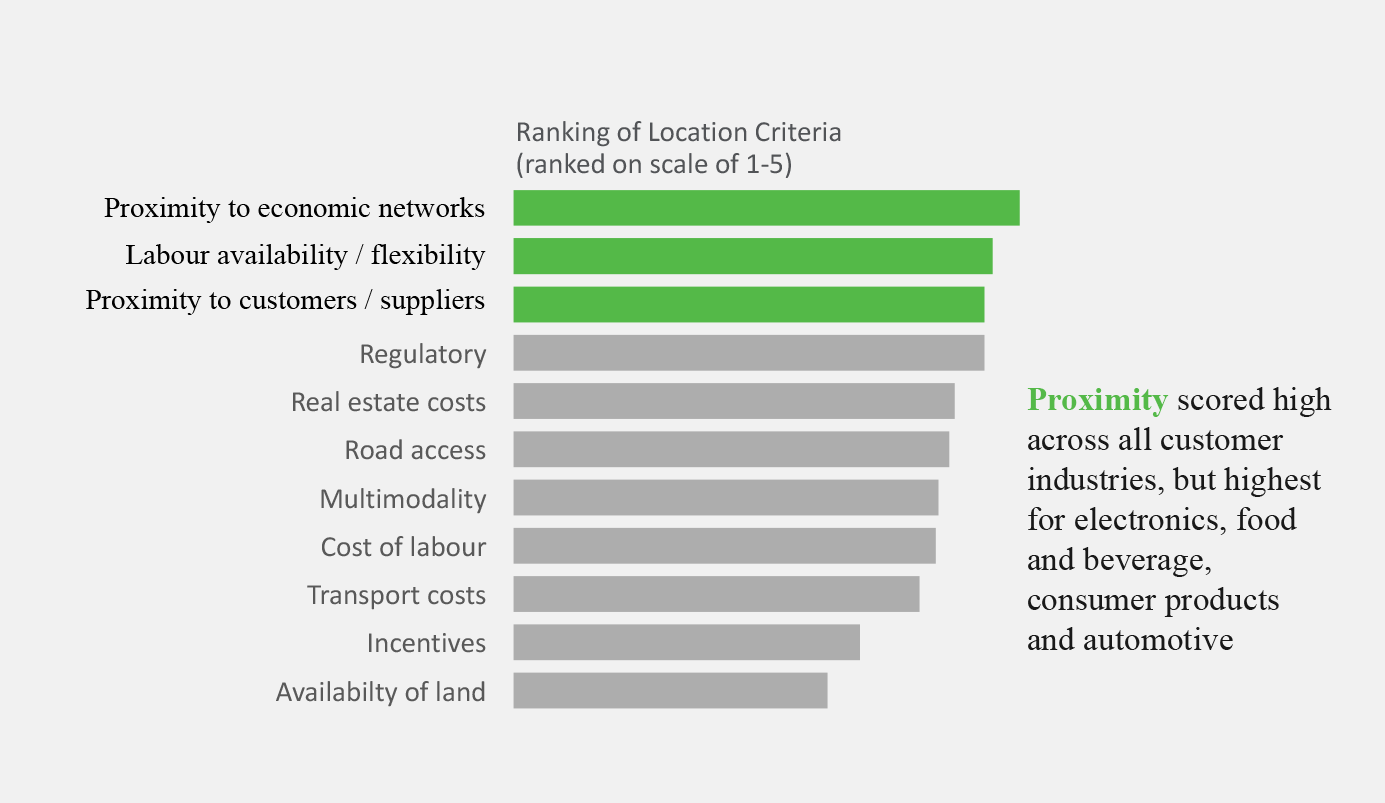 The availability of a flexible workforce is another aspect of operational efficiency that is increasingly important to the logistics sector. With the growth of e-commerce and the steady decline in unemployment levels, labour availability and flexibility rose to second place in the 2017 ranking from fourth in 2015. Further, the drive for efficiency has pushed regulatory concerns up from eighth place in 2015 to fourth in 2017.
Similarly, multimodality - access to intermodal infrastructure at ports, airports and rail hubs - is climbing up the ranking. In both 2015 and 2013, it was one of the least important criteria. By 2017, with increased emphasis on operational efficiency, the proximity of various forms of freight transport had reached seventh place.
Despite rent rises, real estate costs were seen to be less important in 2017 than in 2015 and 2013, falling from third place in 2015 to fifth place. Availability of development land was seen to be the least important criteria in the 2017 survey. However, since 2013 the criteria with the lowest score has been incentives – tax advantages and grants that a country or region will provide for relocating companies.
While proximity to large urban centres and transport routes was important to all customers in the 2017 survey, the results showed some variations in emphasis between different sectors. Labour availability and flexibility, for example, scored particularly well with apparel companies, while a location's regulatory status was of most concern to the consumer products, automotive and pharma sectors. Interestingly, only pharma companies rated real estate costs as a top three criteria. It is worth noting that pharma companies need to invest more heavily in their logistics real estate than other sectors, to comply with legislation.
Despite these sectoral differences, the overall results of the 2017 survey show a trend towards criteria that will help customers achieve increased operational efficiency. Nevertheless, location decisions are taken within a wider economic and political context and this broader picture is our next area of enquiry.
Diversity means stability
Prologis' European customers operate across a wide range of sectors. This diversity means that demand for logistics real estate is balanced and stable.
To understand how warehouse users select specific locations, our first step was to identify exactly who these companies are, which sectors they serve and how they operate their supply chains.
The Prologis portfolio in Europe comprises 17 million square metres across 12 countries, so this provides a useful insight into the overall market.
"No industry comprises more than 12% of Prologis European customer base."

Dirk Sosef, Vice President, Research & Strategy Europe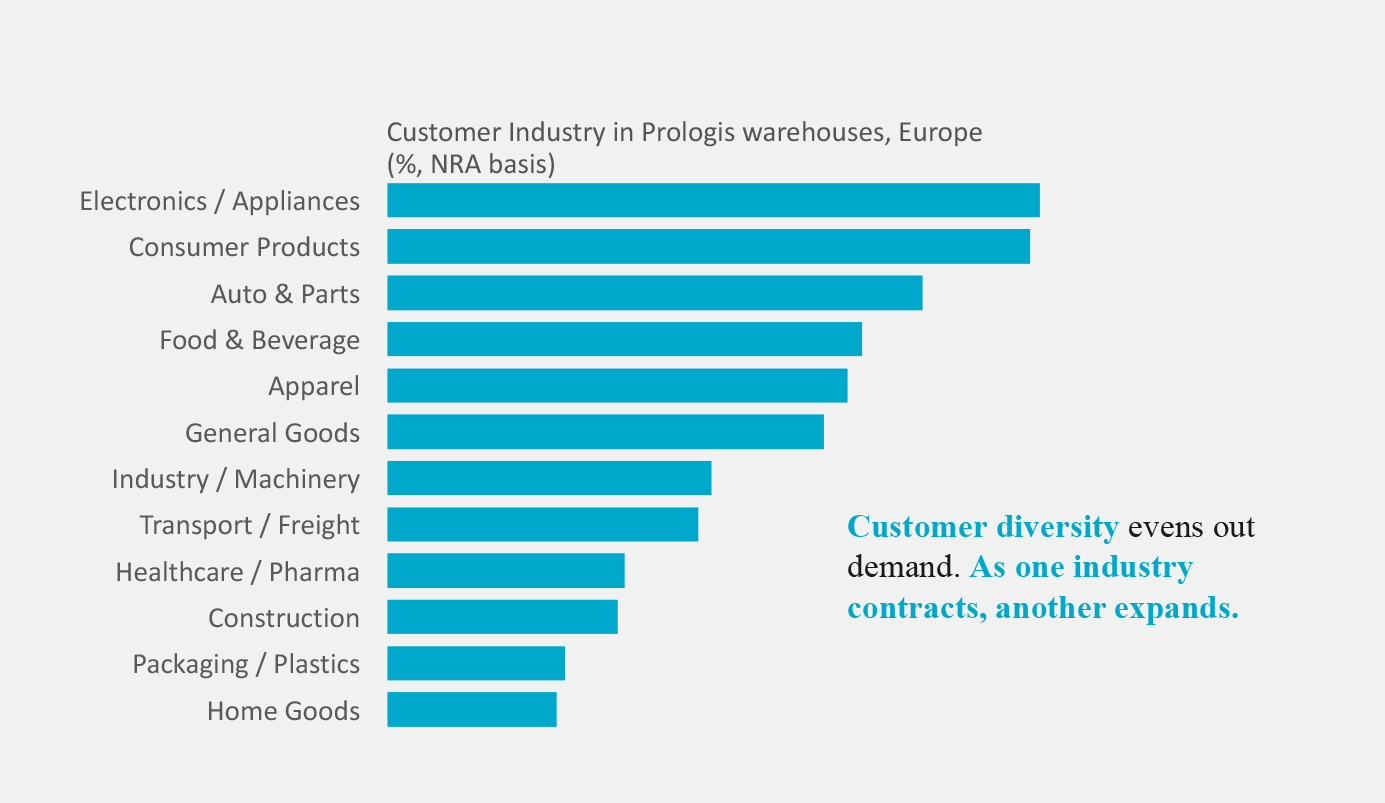 The initial finding of our portfolio analysis was that our customers operate across a wide diversity of sectors. In fact, no single sector represents more than twelve percent of our customer footprint. This means that if one sector contracts, another is likely to expand and demand for logistics real estate will remain stable.
With such a diverse group of occupiers, we were interested to discover where priorities converge and diverge. These two questions were the starting point for our collaboration with eft.
Older Research
Strong Rental Growth Continues Amid Historically Low Vacancies
Newer Research
Customer Growth Strategies: Europe's Most Desirable Logistics Locations