Facts About Prologis Park Tilburg DC5
Data as of March 31, 2020, for assets the company owned or had investments in, on a wholly owned basis or through co-investment ventures, properties and development projects.

Prologis Park Tilburg is located in Southern Netherlands, one of the fastest-growing logistics markets in the Netherlands because of its proximity to key logistics hubs in Antwerp and Rotterdam. The park comprises 271,174 square meters.
The facility is leased to Pantos Logistics, a long-term Prologis customer. Because of the leading Korean logistics provider's growth across a number of areas, including warehousing, the company required additional capacity in the Netherlands. Pantos moved into the facility in May 2018.
Whereas building rating systems such as BREEAM assess the environmental performance of buildings, the WELL Building Standard focuses on building design and management that enhances employee health and quality of life in the work environment. Incorporating health and well-being into building design is an example of Prologis' long-term focus and innovative approach to environmental stewardship, social responsibility and governance—and of how these factors are integrated fully into our business strategy.
Focusing on the well-being of employees inside warehouses aligns with our sustainability and business objectives, as well as our ambitions to raise the standards for logistics buildings.
Shifting toward a more human-centric approach leads to insights that give Prologis buildings an extra competitive edge.
What is the WELL Building Standard?
The Person at the Center: Our WELL Building Projects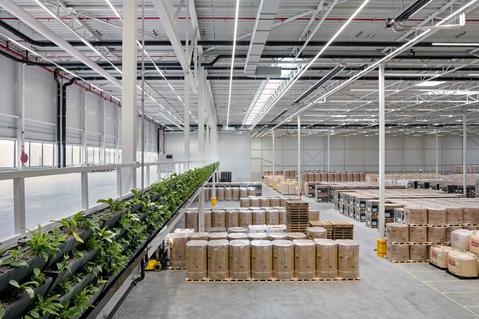 Logistics Facility in Tilburg Receives WELL Gold Certificate
For the first time the International WELL Building Institute™ (IWBI™) has awarded a gold certificate for a fully equipped logistics building in operation. Prologis had developed the 25,800 square meter custom-made facility for Pantos Logistics.
Prologis Develops Logistics Facility According to WELL Building Standard
In February 2020, Prologis started with the speculative construction of a 27,800 square meter logistics facility in Datteln in the northern Ruhr area. The focus of the development is on employee satisfaction. From October 2020, the space will be available for rent to customers.