Stefan Siegle, Director, Capital Deployment Germany: Change Is Important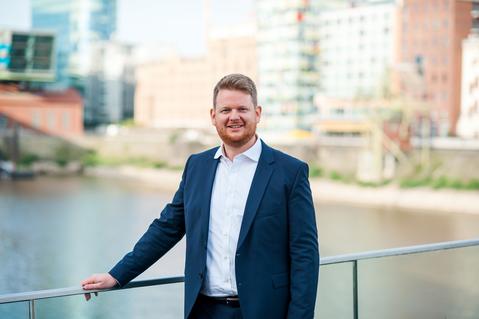 Stefan
Siegle
Director, Capital Deployment Germany
Stefan Siegle has worked for Prologis Director, Capital Deployment Germany, since February 2018. Even though his career in logistics real estate development is still quite young, he has a very long track record in the real estate industry. Stefan Siegle gained his first practical experience during an internship with a real estate consultant while still at school. Since then, he has held numerous positions with various real estate companies. "I love the variety in this profession. Being able to create something that will last for many years fascinates me," says Stefan Siegle.
At Prologis, Stefan Siegle is responsible for the acquisition and development of existing facilities and properties. His focus is on the German states of Baden-Württemberg, Bavaria, and Hesse, where he is the point of contact for Prologis' customers. He describes himself as a "handyman" – because he takes care of all of his customers' needs, both in the initial phase of a project and later if any problems arise. "Every day is different – I enjoy this variety," says Stefan Siegle. "It comes down to the right balance between working in the office and outside the office as well as alternating between working independently and working in a team."
A Passion for Working Internationally
Another factor that he appreciates at Prologis is the company's international focus as a globally active real estate developer. "I have lived and worked abroad for many years, including in London and Abu Dhabi. At my former employer, I worked with 55 colleagues from 35 countries. Thanks to this international experience, I approach issues with a much more open mind and am able to adapt to change. And this is particularly important, as change is necessary in order to meet the challenges of the future – both for employees and for companies," he explains.
One of the challenges in his job is the constant change in the logistics industry due to factors such as digitization and e-commerce. Logistics services are becoming increasingly important. "This is where our work is a balancing act – on the one hand, there is the increasing shortage of space and, on the other, the constantly growing demand for logistics," says Stefan Siegle.
In order to successfully master this balancing act, he develops concepts for modern logistics facilities at Prologis together with his coworkers and external partners. Building close relationships with customers is also important to Stefan Siegle. "I am constantly in contact with brokers and municipalities as well as with our customers and other market participants. As Director, Capital Deployment Germany, I keep a close eye on the market so that I know our customers' needs," he says. "All of this helps us better understand what's important to municipalities, residents, and users, so that our facilities seamlessly fit into local community."
Adding Space via Brownfield Developments
If a customer needs additional space, in the best case Prologis can offer an additional adjacent facility or at least a facility that is nearby. This is why Stefan Siegle maintains close ties with the municipalities. In-depth discussions with brokers and owners are particularly useful for identifying potential brownfield sites, for example.
In light of the increasing shortage of space, Prologis is increasingly focusing on the development of brownfield sites. "The revitalization of former industrial and military sites is a very complex process. A dialogue with business development agencies and municipalities helps us determine what the municipalities' strategies are and how they can be aligned with Prologis' plans," he explains. As a long-term owner, Prologis is extremely interested in high-quality locations. This also applies to the issue of sustainability. In addition to the use of high-quality building materials and insulation that exceeds standards, Prologis increasingly uses solar power systems and is gradually converting its existing facilities to energy-efficient and durable LED lighting.
"Being a good neighbor is extremely important to us," Stefan Siegle says. "Our goal is to minimize the environmental impact of our buildings and to create the best conditions for employees in our logistics facilities. To achieve this, we pay close attention to the WELL Building standard to ensure that employees enjoy a high standard of health and well-being."