Ella Brik, Marketing and Communications Manager Northern Europe: Exploring New Frontiers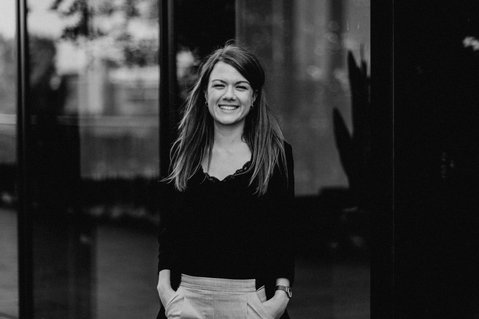 Ella
Brik
Marketing and Communications Manager Northern Europe
What drives young people to excel at work? And how do they like working for a large, global company like Prologis? In a series, we shine a spotlight on Prologis' talents to explore their motivation and skills.
In this edition, we feature Ella Brik, marketing and communication manager, who joined Prologis in 2015 to give the German marketing team a new pulse with her creative ideas. In spring of 2019, we caught up with Brik to chat about her passion in life, job at Prologis and professional role in marketing.
First of all, what is your biggest passion?
Brik takes a sip of her coffee and does not have to think long. "I really love to travel and especially backpacking," she says. Exploring new cultures and destinations, watching people and trying new food is what makes her tick. Her interest in travelling probably has something to do with her background. "I was born in Kazakhstan. When I was 3 years old, I came to Germany, and now I live in Dusseldorf. But I still maintain a close connection with my home country," she says.
Her roots play a strong role in her outlook. She explains, "Kazakhstan consists of two worlds. Astana, the capital, has developed from being a small city to a hypermodern capital." And then there is the countryside of Kazakhstan, where her grandparents live: "Their life is still simple: They live in a small farmer's village. There, I calm down and get a completely new perspective on life. I think this background gives me an open-minded view of the world."

When did your adventure at Prologis begin?

"It is indeed quite an adventure!" Brik confirms. "It started in February 2015 by coincidence, actually." While searching for a regular trainee program, she saw an appealing picture of Prologis with a job description titled "Marketing and Communications." She continues, "It sounded like a new challenge with diverse and exciting opportunities. During my job interview, I noticed the good match between the character and personalities of my future colleagues and me. Furthermore, I liked the challenge: to create new marketing tools and build a new online presence for Prologis."

What is working at Prologis like?

Brik grabs a lifestyle magazine on the table, starts searching for something and then says, "Some of my friends work in fashion. It seems cool from the outside, but most of them are responsible for only a small part, for example, managing the online presence. But at Prologis I can make an impact. Globally, we are a small team that does big projects on a large scale. We manage the whole marketing package for four geographical markets. At Prologis, I experience that young talent has the opportunity to be responsible for their own projects right from the start. They are usually part of a small dynamic team, participate in meetings, organize events and receive extensive mentoring. The responsibility given to young talent makes their work from the start very diverse."

What does marketing at Prologis mean to you?
Briks says, "As a marketer, you are the artist who creates the experience for the customer. For each project you start with a blank sheet, where you can draw anything. Before I started at Prologis, I had always wanted to work in beauty and fashion, but now I know it is also an interesting task to market a warehouse. How do you market different warehouses? That is a big challenge, and I really have to be creative to come up with new ideas." During her time at Prologis, Brik has learned a lot from the diverse projects for which she has been responsible. From Prologis' presence at Expo Real to briefings and pitches from different agencies that work with Prologis, the many experiences have made her even more creative in her approach to marketing.

Talking a bit more about marketing, your profession, what case in marketing inspires you?

Brik picks up the magazine she had earlier and points at an advertisement: "Look. It's Mercedes." She likes their change in marketing over the last five years. Mercedes transformed the image of a car for old white German guys into a younger, fresher brand feel with Nicki Minaj featured in commercials using the voice control. In Germany, this new approach is very successful. A similar change of approach is also happening at Prologis. Brik says, "Prologis also refreshed its branding, and thus the marketing also changed. Automated marketing is becoming more and more important, and we have developed a digital property marketing tool. We also focus more on a personal approach. I think we are working hard every day to be the Mercedes of our own industry—if we aren't already."